Why mining Ethereum Classic  over  Ethereum
CryptoCurrencies are the future of making payments but ultimately which currency will survive and which bubble will burst can't be estimated. Many of the investors and speculators informed that BTC is the future of Payments and one and only immortal crypto Assets which will increase its value 50 times more than today.
BTC is in quiescence while other crytocurrencies such as Cardano and Verge are top gainers in this last week of March  but their are certain assumptions that within a month ETH and ETC will be top gainers in the Market.
Ethereum was last $511 comparing it with last month, Ethereum crossed $1200 which was not predicted.It seems that this month is a month of investing and holding Ethereum.
Mining Ethereum Classic
Ethereum Classic , a continuation of Blockchain program of Ethereum was released on 30 July ,2015 and their is an surge in prices seen below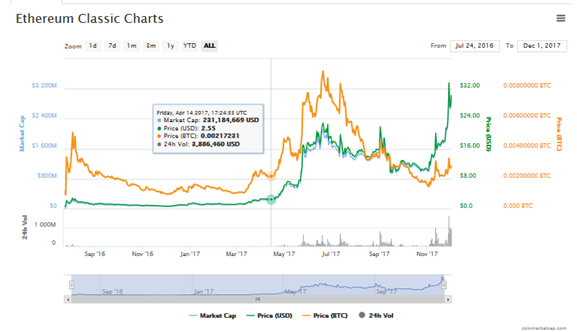 Ethereum classic was high at $21 and low at $17 this week which indicates their are less need for Stop loss in this Crypto Asset.


Mining Ethereum classic will give you 115% Profit ratio while Profit on Ethereum is only 78% .So, mining Ethereum classic is 35% more profitable than mining Ethereum.There are predictions that Ethereum Classic will be rising 50% this year and will make its rank  on Top 5 Cryptocurrencies.
ETH Price is $551 and mined on 243,005 GH/s hashes .
ETC price is calculated on price $18.1 on 243,005 GH/s hashes.
Meanwhile , Cryptocurrency may be racy but is 90% speculation involved and 99% risk to hold these currency but in order to survive in the world of competition , person taking risk can only make money .
Mining Ethereum classic is more profitable to hold ,Moreover it's easy to mine and involves less risk to hold for long time.
Read more
ETH will be the biggest cryptocurrency in 3 years